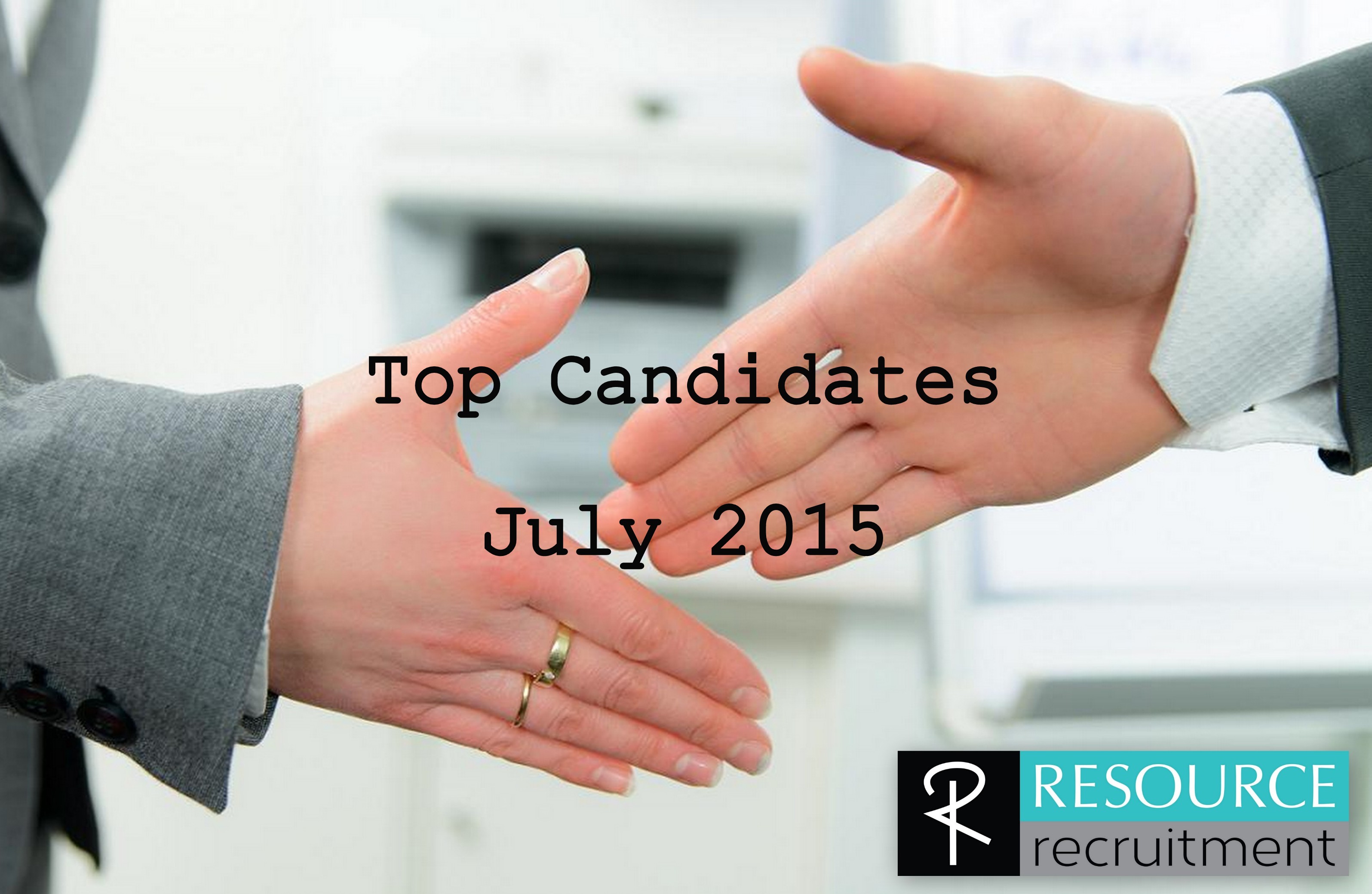 08 Jul

July 2015 Top Candidates
Check out some of the stunning candidates that we have interviewed this last month! If you would like to see their CV's in detail, or have any other vacancies that you require assistance with, give RESOURCE recruitment a call on 031 764 0787 or email kirsten@2r.co.za
Carol- Marketing Administrator- R12 000
Carol obtained her B.Com Marketing degree and then went and studied a certificate in Fine Art, Animation and Design. She has been working for a large retail wholesaler since 2007, initially as a marketing assistant- arranging expo's, product launches and as assistant to the marketing director, and then in 2012 took all the companies graphic design in-house. She is very experienced in producing catalogues and sales pamphlets/ adverts- from photographing products, to layout and DTP, to dealing with printers to ensure that quality is achieved. Carol also manages three websites, for her company and two of their principles, as well as their social media accounts. Carol is still inexperienced enough to be happy to multitask within the marketing department, to gain a variety of experience, however with her qualifications and 8 years experience, has a huge amount to offer a new employer!
Abi- Junior Receptionist- R4000
Abi stays in the Highway Area and completed her matric in 2014- obtaining a bachelors pass and an aggregate of 73%. She is fully computer literate, and has her own reliable transport, and has been spending the last six months gaining work experience in a variety of temporary positions. Abi comes across very mature and interviews well- answering questions in a mature manner and showing a lot of direction as to what she is wanting to do with her life. Abi will be studying her BCom Marketing through UNISA next year and is looking for any office position in which she can gain experience, and ideally deal with people. Abi is available to start on a temporary basis and prove herself.
Shelly- Part Time Bookkeeper (20 hours a week)- R60- R75/ hour
Shelly lives in the Upper Highway area and currently works on Sage Online 20 hours a week, doing bookkeeping and general administration for a company. She is looking to take on another client either half day or 2-3 days a week. Shay has a bookkeeping and Pastel qualification, and worked on Pastel for six years. Her experience lies in the full creditors, debtors, cash book, VAT, statutory returns and Pastel Payroll.
Shaun- Warehouse/ Stores- R8500
Shaun has a good combination of interpersonal skills and logistics experience. For the past five years he has worked as a Logistics clerk doing dispatch, stock control, delivery planning, and supervision of staff as well as general administration and invoicing, and liaising with clients. Shaun was retrenched in February this year and is available for temp and permanent positions in the greater Durban area. He has his driver's licence and own car, and has his matric and a certificate in Occupations Health & Safety.
Give RESOURCE recruitment a call today on 031 7640787 or email kirsten@2r.co.za with all your staffing needs!