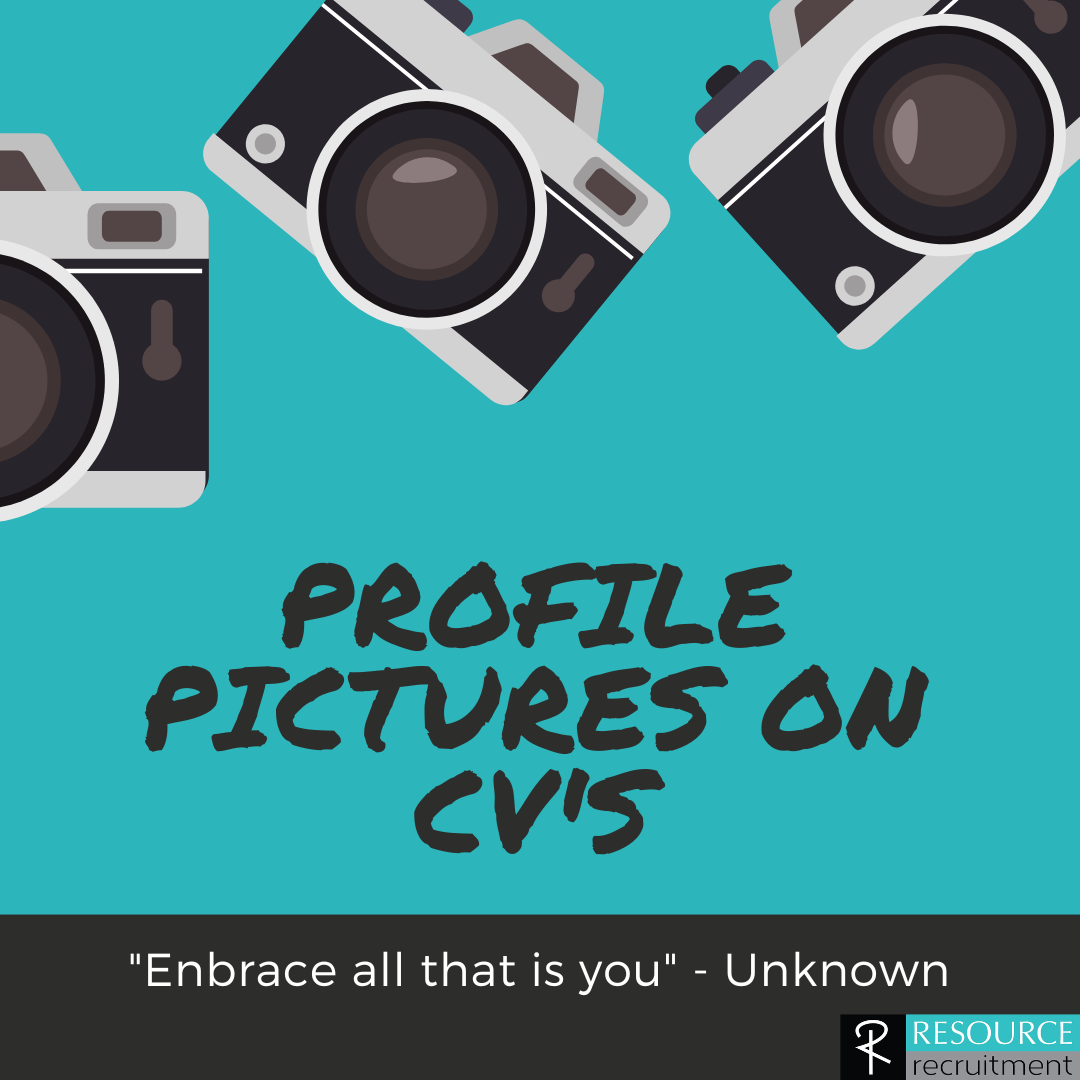 18 Aug

Profile Pictures on CV's
The latest trend in recruitment seems to be putting a photo of yourself on your CV.  The majority of the population hate having their photos taken, are naturally critical of themselves, and generally object to this.  I have to admit, if I was in your shoes, I would too!  But the reality is, that employers want these photos, so this may help you to understand why, and what your ideal photo should look like.
WHY PUT A PHOTO ON YOUR CV?
I cannot speak for every recruiter, and certainly I am sure that there are those people that are asking for photos for the wrong reasons.  RESOURCE recruitment does not ask for a photo when you apply for a job through us, but we take one at the interview, which we put on your CV that we will send to our clients.
Many people are visual, and it helped us remember the candidate, a year or two down the line.  Clients then started requesting photos.  When they are interviewing several people in one day, it helps to look back on the CV and photo, to recall and reflect on the interviews.  Clients will also phone us three months down the line, and say, "Remember we interviewed that lady for the sales position, and she was not suitable.  Well another position has opened up, that she would be perfect for!  She was the one with the really cool afro."  A glance at a photo, and they know they have the right person.
But probably the most important reason for putting a photo on your CV is that it makes your CV personal.  It makes a piece of paper, a person.  The candidates getting short listed, are the ones with pictures on their CV, it is not because of their good looks!  A few years ago we placed a senior bookkeeper.  All the applicants happened to be between 55 and 59 years of age.  One of the applicants did not want a photo taken for their CV (which we respect).  When the client short listed candidates for interviews, he asked to see all the candidates except the one without a photo.  When I asked him why he did not want to see her, he replied, "I don't know.  I don't get a good feeling about her CV.  Let's see the others first."
THE DO'S AND DON'T'S OF PROFILE PICTURES
Here are a few common mistakes to watch out for when putting a profile picture on your CV.  Always remember the aim- to market yourself as a professional, not to win admirers and friends.
Blurry or Too Small
Ideally your photo should be 200 x 200 pixels or larger. Anything smaller and you're guaranteed to end up with a fuzzy or teeny tiny image If possible chose a square head shot, as it will work with other social media accounts.
Too Close or Too Far Away
Stick with a standard head shot for your profile pic. Prospective employers won't be able to identify you from a picture too far away.
The Group Shot
Remember, this picture is supposed to represent your professional brand – no one else's. Don't make recruiters guess which person you are in the photo. Use an image that shows you and only you.
The Crop
Cropping yourself out of the group shot doesn't work either. While it may be your favorite picture, no one wants to see half of your loved one's face or your best friend's hair on your shoulder.
Too Serious
Opt for photos where you're looking at the camera and smiling. You want to appear friendly and approachable.
Goofy Expressions
Remember, this image is supposed to represent your professional brand. When you look at your profile photo, does it send the same message as your resume?  This includes NO pouty lips!!
No props, baby pics and pets.
Save these cute pics with your toddler or puppy for your personal social-media channels such as Facebook or Instagram. Make sure that you are not holding alcohol or cigarettes, and that you don't have any props in the picture indicating that you are off to do something, such as a motor bike helmet or fishing rod.  Stick to a photo of yourself for your professional profiles.
No Selfies
This is a professional photo of you.  Ask someone to take it, rather that have your hand shooting out the corner of the photo.
Backgrounds Count
Before you put a photo of you in a nightclub, or most commonly a bathroom, think about the impression this makes.  Either a neutral background is good, or alternatively at your desk or in a professional setting is always good.
Dress to impress
Dress in appropriate work clothes.  No evening dresses, wedding gowns, bikini tops, topless men or sky diving suites if you want to be taken seriously.
It's totally up to you if you put a picture on your CV or not, but if you are going to, make sure that like all things when looking for a new job, it markets you the way you want to be viewed by prospective employees.