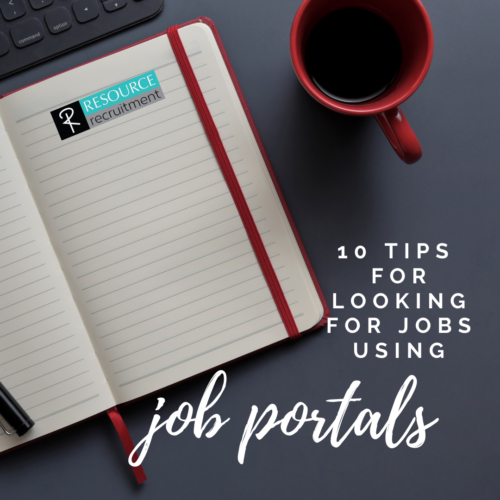 01 Sep

Tips for Looking for a Job Online

10 TIPS TO LOOKING FOR JOBS ONLINE

Along with all things, how we look for jobs is changing rapidly every year, and in just the last 10-15 years the recruitment industry has moved almost completely from advertising in newspapers and receiving paper (fax, posted or delivered CV's), to advertising electronically and receiving digital CV's either via email or uploaded onto websites.  The industry is changing so rapidly, that a lot of schools have no even started teaching school leavers about job portals, and if you are new to the job market after being away for a while, you may find it quite daunting!

Hopefully, these tips will help you navigate looking for a job on line a little easier.
Be careful who you ask for advice
Everyone is an expert!  Everyone likes to tell you what you are doing wrong, and what you can change (even if it does not need to be changed).  You can ask parents and grandparents for assistance and guidance in your education, maybe dealing with your boss and how to resign.  But when it comes to preparing a CV or posting your applications online, unless they currently are responsible for recruiting staff, they may not be the experts to turn to.
Use reputable websites or job portals
There are a lot of job portals out there that take adverts off other websites, and place it on their websites to drive clicks/ traffic to their websites.  These are not the websites that you want to be visiting because often the jobs you are viewing are outdated or invalid.  You want to be using websites where the advertiser placed the job themselves, has the correct email address for responses and a deadline for the advert.  RESOURCE recruitment always keeps their jobs updated at https://2r.co.za/category/vacancies/ .  Other good websites to keep an eye on are Pnet, Careers24, Career Junction, IOL and Gumtree.
Make sure the KEY WORDS are in your CV.
When I search for a suitable applicant among CV's, I use "Key Words" to find applicants with the required skills.  This means that if those skills (key words) are not on your CV, you never did it (even if you did), and you won't be short listed.  Keywords would be, depending on the job requirements, things like- Pastel, Syspro, reconciliation, VAT, balance sheet reconciliations, statutory returns, payroll and Forex for a bookkeeping position; or litigation, conveyancing, Dictaphone typing, minute taking and paralegal for a legal secretary position.  Think about what job or industry you are wanting to get into, and then make sure these words appear on your CV
Avoid abbreviations
Don't assume that the person reading your CV will know your industry abbreviations and lingo.
Fill out the registration form in full
I know that it is time consuming to do this when it is all on your CV, and you have probably filled out a hundred forms similar to do this before, but it is important.  Remember, "If it's not on your CV you never did it", so "If it's not on the application form, you also never did it!"  (If the company then sends you another application form to fill out, you need to complete this form too.)  Recruiters are going through literally hundreds of applicants, 80% of which are totally unsuitable, and these application forms from the companies are created to streamline the short listing process.
Keep your CV Updated
This is normally the main reason that the most suitable applicants are NOT short listed.  Their CV is not updated to show their latest experience; that they now live in the specified area; that they now have a car; that they have completed a qualification; or that they are available immediately.
Put your email address on your CV
It stands to reason that if you are applying for a job online, you should have your email address on your CV in addition to your phone numbers.  And don't forget to check that email address daily!  If your CV is forwarded to someone else in the company, saved or printed- it may be separated from your original email.  (And we should not have to say it- but remember your phone number too!)
Social Media Accounts
If you are applying online, chances are that the recruiter will google you, or more accurately- Facebook- stalk you!  If you have not put your privacy settings on your social media accounts, you are inviting them into your personal lives.  Do you want to be judged on your political views and what you did last Saturday night; or that you are home from work again with a sick baby; or that all your posts are made during business hours?
LinkedIn is huge internationally, but it seems to be gaining popularity now in South Africa.  This is the "professional" version of Face Book.  This is the face you present to future employers and network.
Get your CV out there
Looking for a job is a "stats game".  The more people who have your CV, the sooner you will find something.  The more portals your CV is on, the more companies will view your CV.  The quicker you reply to emails requesting information or interviews, the more interviews you will attend.
Keep your Account Current
The final tip is to keep your profile current on the portal.  Each month, go in and edit something.  It's not important what you edit.  When I am searching for applicants, those that were active most recently will appear first, and those that were last active six months ago, I probably wont look at because, chances are, they have found something.  The job portal does not show when you registered, it shows when you were last active.