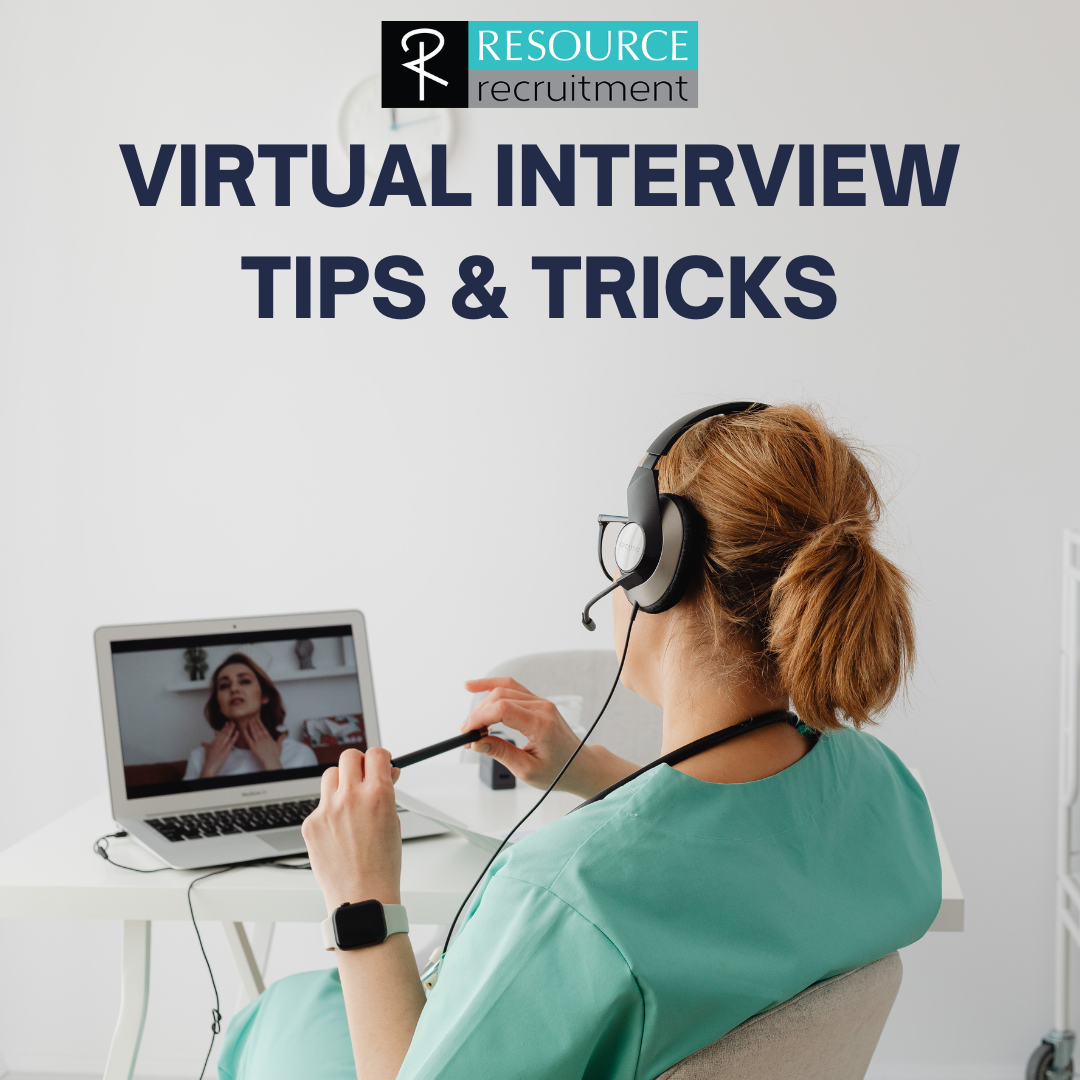 18 Aug

Virtual Interviewing Tips & Tricks!

Whether you're applying to be the receptionist at a dental practice or the CEO of a major company, its no doubt that we all get just a little bit nervous when it comes to the interview. For many jobseekers, going for an interview is one of the most intimidating steps in the process of getting a job.  Because of Covid 19, many companies have made use of virtual interviewing, which will likely continue to be an option for years to come. Virtual interviews are a convenient way of meeting and interviewing applicants "face to face", however, not everyone is comfortable with this platform. Even though you cannot greet your potential employer/recruiter with a firm handshake, there are still a few ways in which to make a good first impression from behind the screen.

Follow our guide below on how to prepare and perfect your video interviewing skills!
Keep your phone, laptop or computer at eye level. You do not want to be turning your chin upwards to see the camera or looking down. It looks unprofessional, and it's unflattering too! When the camera is at eye level, you will feel more comfortable and natural during your interview!
Make sure to test your interviewing platform before the interview. If your interview is going to be on Teams, Zoom or a similar platform, test it out with a friend or family member to make sure that it is up and running smoothly, rather than having issues trying to connect when your interview is scheduled to start, and then running 10 minutes late.
Have a stable internet connection. The most frustrating part for any interviewer, is when the call keeps pausing or glitching due to poor internet. If you have poor signal, take a walk and find better signal before your interview.
Look at the camera. Make an effort to look at the actual camera in front of you instead of staring at yourself on the videocall. Don't look around the room or avoid looking at the screen. It's the closest you can get to 'eye contact'.
Put your cellphone on silent. Phone calls and notifications are a distraction for you as well as for the interviewer and may throw you off your train of thought. Don't glance over at your phone either!
Conduct your virtual interview in an environment where it is quiet, with little or no disruptions. If you're at home, try to find a quiet spot – perhaps your bedroom or living room. If the environment around you is loud and distracting, you will not make the best impression and the interviewer will be distracted too.
Dress to impress! Yes, we know you're probably sitting at home for this interview or in your car, but just because the meeting is virtual does not mean that normal interviewing etiquette goes out the window! Dress appropriately for the position you are applying for. (If you are doing the interview while at work and in a work uniform, that is totally understandable. But at least wash the grease off your check from the workshop beforehand!)
Don't ramble! Your interviewer is NOT your therapist! Interviews are generally scheduled for a set amount of time – if you ramble on about something irrelevant for 20 minutes, your interview will be cut short without having discussed the important information.
Lighting is important. Make sure that you interview in an environment with good lighting. This is incredibly important and missed by many candidates. Your lighting should be natural (perhaps in front of a window, or even use a ring light if you have poor lighting) and should be coming from in front of your face and NOT from behind you! So many candidates interview with a window behind them, and then look like a silhouette the entire time. Rather turn around and face the window.
Staging is important. We understand that sometimes your surroundings are not 'picture perfect', but you can make your background look less cluttered and distracting in a few simple steps. If you're interviewing from your bedroom – make sure that your bed is made in the background and pick up clothes from the floor (or from that one chair that we all use for cluttering things on!) or at least move it out of sight from the camera. A simple, neat background does wonders for your interview. Sitting in front of a clear wall with a plant behind/beside you is so simple, yet so effective!