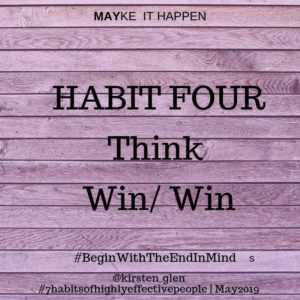 25 May

GO FOR WIN/ WIN

In life- what you give, you get.  When you start looking for a job, focused only on what you are going to gain, things are guaranteed not to go well in the end.  Habit Four from "The Seven Habits of Highly Effective Job Seekers", is WIN/WIN. 

In any interaction in life, you can aim for a number of outcomes- I "win" at all costs; you "win" and I lose; we both lose; no deal; or WIN/WIN.  Naturally, the outcome that everyone wants is the last- win/ win. 

There are three aspects to this that you should focus on: –

Character- yours and theirs
To start with, you need to go back to the first three habits. Are you being responsible? Do you know what you actually want, and how you are going to get there?  If you don't know what you want, how will you ever know if what you have achieved is win/win?
Both parties need to have the maturity to take a step back and look at the situation with perspective and maturity. There are two sides to every story, and if you try and empathise with where your employer is coming from, or why a future employer is skeptical, it will give you far greater advantage, then blindly going after what you want (a win for you only).
The biggest key to win/win situations, is to acknowledge ABUNDANCE MENTALITY- knowing that there are enough opportunities out there for everyone. It's the opposite of scarcity mentality that has everyone trying to trip up the competition, hoard the resources and secretly wishing their friends and family were not so successful.   Having an abundance mentality means practicing gratitude for what you have, where you are and what you have accomplished. 
Relationships
Win/ win relationships start with YOU.  In your current job; with the network that you will reach out to assist you in finding a job; and with future employers and colleagues- the win/ win relationships start with YOU.  Even if you feel like you are the only one making an effort, in the end, it will pay off.  Relationships are like a jar of sweets.  Every positive thing someone does, adds to the jar, and everything negative, takes from it.  Sometimes you, or the other person, takes more from the jar than they put it, but if you had already added enough sweets (good deeds) to the jar (relationship), it wont matter.  You can add to this relationship or jar by doing simple things like greeting people sincerely; making a stressed colleague a cup of coffee; remembering to follow up with a client about how they are doing after an illness or big event; keeping commitments; being sincere.  I always tell my staff- if you are always 15 minutes early for work- how can I be upset when you ask to come in half an hour late for work or get caught in traffic?
Win/ win relationships may not change your actual situation, but they eliminate the negative energy around you, that ultimately leads to attracting more negative situations and poisons your mindset.  The biggest mistake job seekers make in interviews, is to bring the negative energy from their most recent employment into the interview.  People like proactive, positive people.  People promote and employ happy, positive people!
Agreements
When it comes to making agreements- be it in your current job, a counter offer; with the company you hope to work for; or with your family and friends, it is important to use the above points.  Separate yourself from your position/ opinions/ wants, take a step back and look at the key issues at hand.  Money is always a factor when making an employment decision, but should be the end result, not the driving force.  Desperation is the biggest opinion that you need to separate yourself from, because that is purely about you winning, and the second you have the job, desperation disappears and with it the reason you made the decision.  If you have followed the first three habits, you will know what you want to do and how you want to achieve it.  Now you need to make sure that you are going to have the resources to do it; be clear on what competencies you will be help up against; and what outcome will be expected from you for there to be a win/ win agreement.  In other words, do you have the skills, want to work in the area doing that kind of job, and can make a commitment for the salary offered?
If not, you can seek a compromise, or go for "No Deal".  But in all things, act with integrity, and seek an outcome where everyone wins. 
(inspired by "The Seven Habits of Highly Effective People" by Stephen Covey.