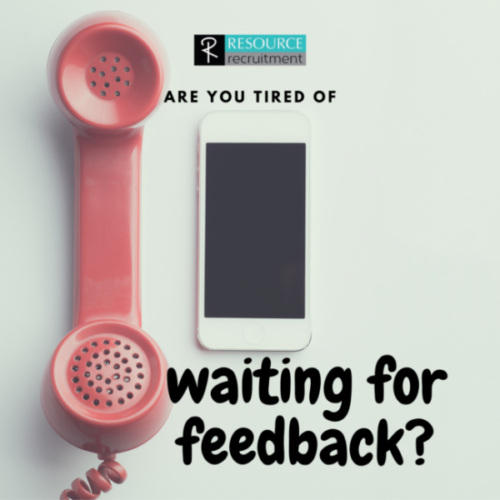 01 Sep

Getting Feedback on your Applications

GETTING FEEDBACK ON YOUR APPLICATIONS

Not getting feedback when you apply for jobs can be so frustrating and demotivating!  But, instead of being powerless in the job seeking process, why not  be more proactive with your communication and take control of the feedback process as much as you can?  Here are a few tips that may help you take control of the situation:-

The ability to communicate effectively and professionally at all levels, is a skills that all businesses seek.  It's one of the first things that is assessed in interviews. You can be a genius, but if you can't communicate, no one will ever know!  How you communicate before you even get the interview, and during the interview and shortlisting process, can make all the difference at the end of the day!

Listening & Interpreting Information
Being a good listener is one of the best ways to be a good communicator. No one likes communicating with someone who only cares about putting in her two cents, and does not take the time to listen to the other person.

Sometimes, recruiters put specific requirements on how to apply for a vacancy.  There are many reasons why they will do this, but failure to follow the instructions, will ensure that you start the process on a negative note.  If the application asks for CV's to be emailed, faxed or posted- use this means to deliver your application.  And if they ask for a covering letter or supporting documentation (or none at all) – listen to the instructions.  If you are not communicating in the way they want, they may reject your application, without you even knowing, and this is the reason you are not being contacted for interviews.

Keep it short and to the point!
Good communication means saying just enough – don't say too little or talk too much. Try to convey your message in as few words as possible. Say what you want clearly and directly, whether you're speaking to someone in person, on the phone, or via email. If you ramble on, your listener will either tune you out or will be unsure of exactly what you want. Think about what you want to say before you say it; this will help you to avoid talking excessively and/or confusing your audience. Often people talk themselves out of a job. Nerves kick in and they start talking and just can't stop and end up telling way more than they should.  Keep it short and sweet, and remember this is a professional exchange, not a friendly chat!

Friendliness
People like happy, friendly people. The effort it takes to smile, be friendly and patient; will be the best investment you can make when looking for a job. I know that you will get frustrated and irritated with the process, everyone does, but avoid making a phone call when you are in a negative mood, and check the tone of your email.

Be aware that when you get negative, stand your ground and confront a potential employer or recruiter, you may make your point, but chances are you will not get the job.  Always be assertive in a constructive, positive manner!

Picking the Right Medium
An important communication skill is to simply know what form of communication to use.

Initially, always follow the medium that the advert asks for the application.  This shows that you respect their process and can follow instruction.  If it is not stated, always apply in writing, via email.  Attached your CV and anything that is requested, but at the initial stage, avoid attaching lots of supporting documents.  Try and make the recruiter's job as simple as possible.

From this point, you need to get the balance right- when it is appropriate to continue on email, phone or maybe even pop in to see the recruiter.  Too many phone calls or an unsolicited visit, may be inappropriate, but there is a lot to be said for picking up the phone.  (But never let anyone else phone on your behalf!!)

Feedback
And the most important bit of advice from this newsletter- ASK FOR FEEDBACK! As demotivating as it may be, it is a reality that you are one of hundreds of people applying for a position, and there is often just one person going through the CV's and the process. If you want feedback you need to pick up the phone or send an email.  Not only will this give you constructive feedback on where your CV or skills may be lacking, but it is an opportunity to build relationships with the recruiter.  Knowledge is power, and knowing why you have not been short listed, can be extremely motivating (as strange as that may seem!).  If you have not passed the email stage of applying, then forward your original application, and ask for feedback (don't make the recruiter go looking for your application).  If you have been in for a personal interview, then pick up the phone and start building relationships.

Relationships are a two way street, so don't apply for a job and then wait to get a phone call.  Be proactive, and drive the process!  Start interacting with your recruiter, and I promise, you will be at the top of their minds next time a job comes in, and they will start communicating back!